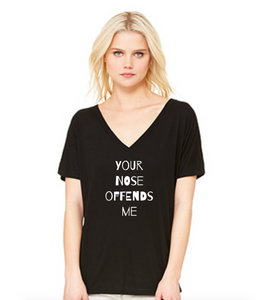 Your nose offends me Flowy Black V-neck Shirt.
Regular price $27.00 Sale
Our black flowy tee is great for breastfeeding or just a comfy tee. Just pick you size and the image you want!
Why not get one that's Flowy for a flattering look plus has a fun slogan to help you spread awareness.''
We screen print each top in house with our original tag lines. Each screen is a little different. Some will be darker than others. Some will look a little more 'worn' depending on how the ink fills. Please also note that dye lots vary.
"I'm the pacifier" came out of my mouth once when talking about my journey with my oldest son. It's probably the truest statement I could make. This is why I am launching this campaign; to celebrate not only my five years of nursing, but to celebrate all nursing moms and their stories. I want to give us the chance to tell our stories, bringing awareness to the importance of breastfeeding... to normalize breastfeeding!
We get our shirts and bodysuits from Bella + Canvas. They make super comfortable tee shirts. We love them because they are fair trade, W.A.S.P. certified, solar powered, paper free warehouse, kind of awesome company.
We keep a small stock and order most shirts as needed. We do this to eliminate waste on our end. This is why it can take up to three weeks to ship. Also please note that while we try very hard to ship with in that time frame it is only an estimate. We are moms and sometimes life happens. <3
We also offer this in other cuts and other slogans. Please check out our shop for all the designs.